ISOSTORE has been designed and researched to have a standard width of 10, 12 or 13,60m and standard height of 3,00, 4,00 or 5,00m, while length has no limitations, because ISOSTORE is made of side walls and roofs of repeated dimensions (module). This system allows great flexibility in applications, low in cost because of its industrialised and standardised product.
ISOSTORE manages to satisfy the housing needs within minimum time, without the need of other setting up crews, thus creating large spaces, without pillars, heat isolated, with or without windows – ready to use. The only demand is the existence make of reinforced concrete, where support is based by means of specially configured bolted metal sheets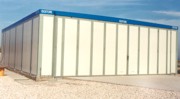 ISOSTORE have been designed and constructed to be used as:
§ Warehouses
§ Repair workshop
§ Laboratories
§ Working areas
§ Hangars
§ Aircraft – helicopters hangars
§ Shops
§ Stables
§ Garages (for trucks – tractors etc)
§ Gyms
§ Sports areas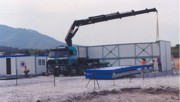 Isostore offers can be extended in width and length. Under special order it can be extended in height as well. For basing the ISOSTORE a block of reinforced concrete is needed with the use of reverse perimetric beam. Detailed plans are provided with the signed contract.
After placing the ISOSTORE for extra protection a perimetric inside floor concrete beam is build to prevent leakage. If sanitary areas exist, the appropriate hydraulic infrastructure is constructed and the gutter along with the base.
ISOSTORE is designed to be assembled without the use of welding or holes, solely with the use of cranes and connecting materials. It is possible to build the ISOSTORE with minimum man-hours and time. Dismantling is as easy for possible transport or extension.
ISOSTORE is equipped with, normal doors, industrial doors; sliding, opening or in rolls, as well as windows, hoppers, internal partitions., electrical or telephone installation, ventilation, portal crane etc.